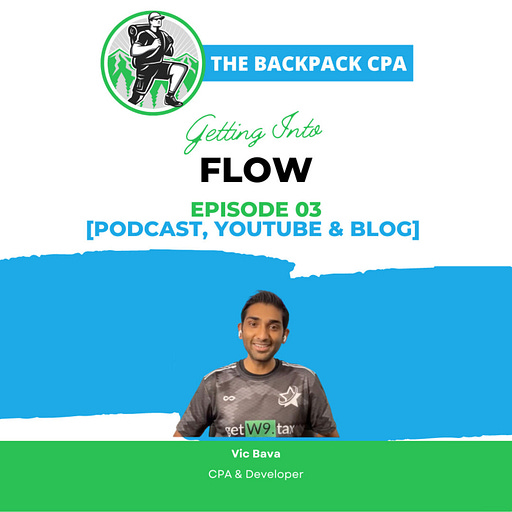 Aug 19, 2022 • 8M
Episode 03 - Getting into FLOW! - Work Smart, Not Hard!
The Backpack CPA brings you The Human Balance Sheet podcast sharing topics and discussions that impact the human behind the professional. We talk with practicing professionals that give us insight into the issues and also some practical advice. I invite you to start "growing" with us in your human journey instead of just "going" through it! The Human Balance Sheet Podcast. www.TheBackpackCPA.com
Welcome to The Backpack CPA! This is episode #3  - Getting into FLOW!

We are not the happiest when we are relaxing, instead we are the happiest when we are in the FLOW state! Flow is when you are so in the moment that time is flying by and you're super productive and getting work done!
What is a flow state?

How can we get into flow?

How can being in flow benefit us?
Resources Mentioned:
Flow by Mihaly Csikszentmihalyi

Guests on the episode:
Vic Bava (Twitter: @vimalcpa)
www.TheBackpackCPA.com

Thank you to our sponsor:
getW9.tax
getW9.tax
An easy & secure way to collect and store the IRS Form W-9. No more printing, scanning or filling out blank PDF files!